Freqeuntly Asked Questions
Comox Valley's Experts in:
Window, Siding and Gutter Cleaning
How much do you charge for a window cleaning?
Rates are based on number of windows, height and difficulty. Most of the time we can provide an estimate remotely using Google Street View and/or real estate photos. Storefront minimum is $45; residential minimum is most often $150. 
Are you licensed and insured?
Yes, we carry $2 million liability, possess an intermunicipal (Nanaimo to Campbell River) business licence and our workers are covered by WorkSafe BC.
What is included in a window washing?
A standard glass clean involves removing paint, hard debris, etc., washing of windows, cleaning of the frames, tracks and sills. Interior window cleaning includes free screen cleaning. 
What do you use to clean the window glass?
Traditional window washing involves dish soap, water, a scrubber and squeegee. Water-fed pole cleaning uses purified water with a jetted brush. The process used is up to the discretion of the professional cleaner. Contaminants, such as paint and sap, can be removed with a wide array of razors and scrapers commonly used in the window-cleaning industry.
What is included in a gutter clean?
Gutter cleaning includes removal of any debris on the roof where applicable, removal of the debris in the gutters and a clean of the exterior of the gutter. Where gutter guards are present, we check to verify no debris is blocking downspouts. 
Do I need to provide ladders?
No; we use all our own equipment, ladders, hoses, etc.
Do I need to be home?
You're not required to be home; whatever you are comfortable with works for us. 
What should I do prior to the crew's arrival?
For window cleaning, any objects on windowsills that you are concerned about should be removed. Ensure water outlets are turned on. If you will not be home at the time, you might need to remove screens. If you need assistance or have questions, give us a call. 
For gutter cleaning, consider moving vehicles if they are parked directly below a gutter so there is no possibility of getting debris on your car.
For house washing, soffit cleaning and other exterior cleaning, move vehicles and any fabrics a minimum of 25 feet away. 
What is water-fed pole window cleaning?
This process involves our five-stage filter system (particle, free carbon, reverse osmosis, de-ionization) that produces water with 0-10 TDS (total dissolved solids). This purified water is fed up a lightweight carbon-fibre pole (we have a five-story pole) to a specialized window cleaning brush with water jets. Optimal cleaning results from using purified water and no chemicals.
What is soft washing?
Soft washing is a new technology that uses low-pressure sprayers with custom-tailored solutions suited to the specific surface. This gentle process is the most effective way to clean the exterior of your home by removing bacteria, mold and algae, which prevents permanent deterioration and staining of all exterior surfaces. The key to effectively removing bacterial growth with minimal environmental impact is a precise solution mixed specific to the surface.
Why don't you use pressure washing?
The extreme pressures are too harsh for siding, paint and wood. Power washing can lead to a lower life expectancy for the exterior surfaces of your home. The water pressure can actually drive mold and algae deeper into porous surfaces and crevices, spreading the contamination to other areas. Pressure washing can cause penetration beyond the outer membranes, resulting in mold growth within the wall and roof cavities. In fact, that's a big reason pressure washing is frowned on by insurance companies.
Pressure washing is great for use on cement patios, driveways, etc. We don't provide pressure washing currently but may consider it in the future. 
What type of payments do you accept?
We accept credit cards, e-transfer, cheque and cash (in order of preference).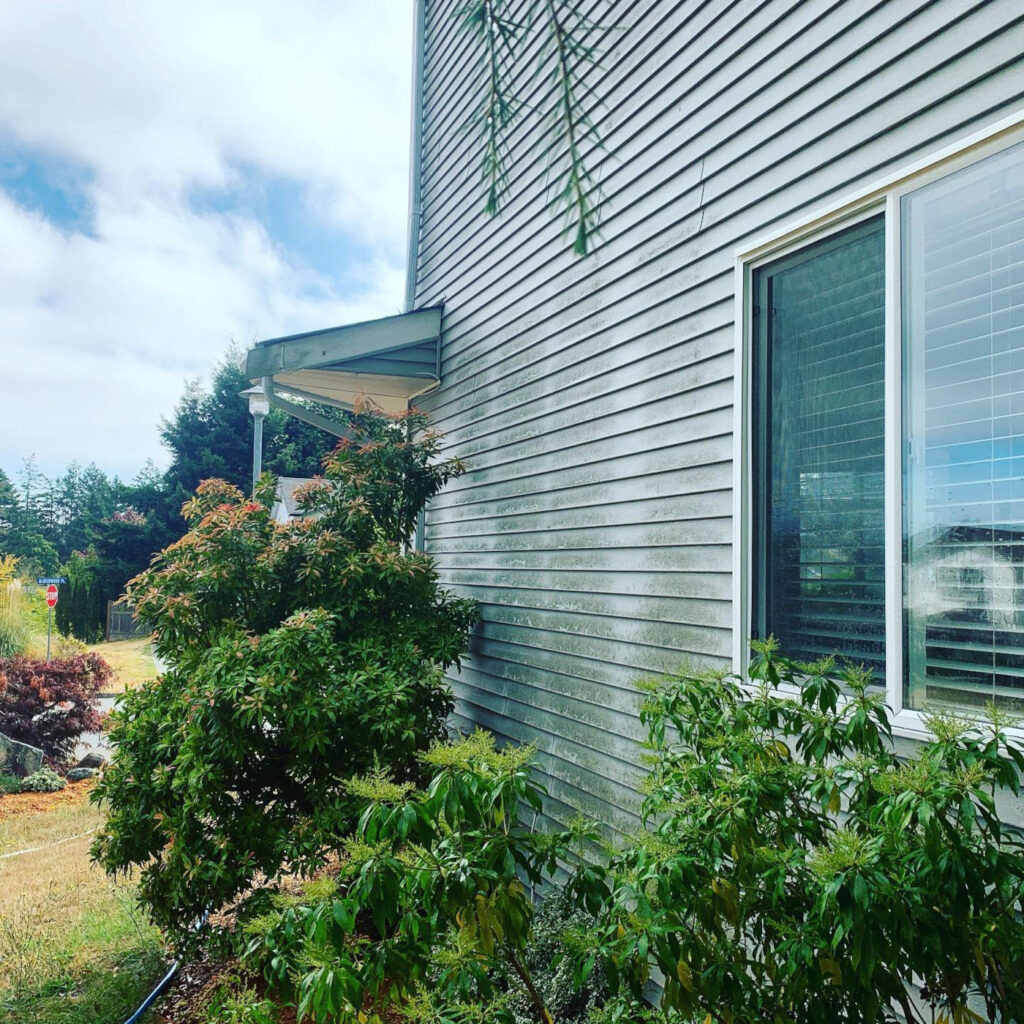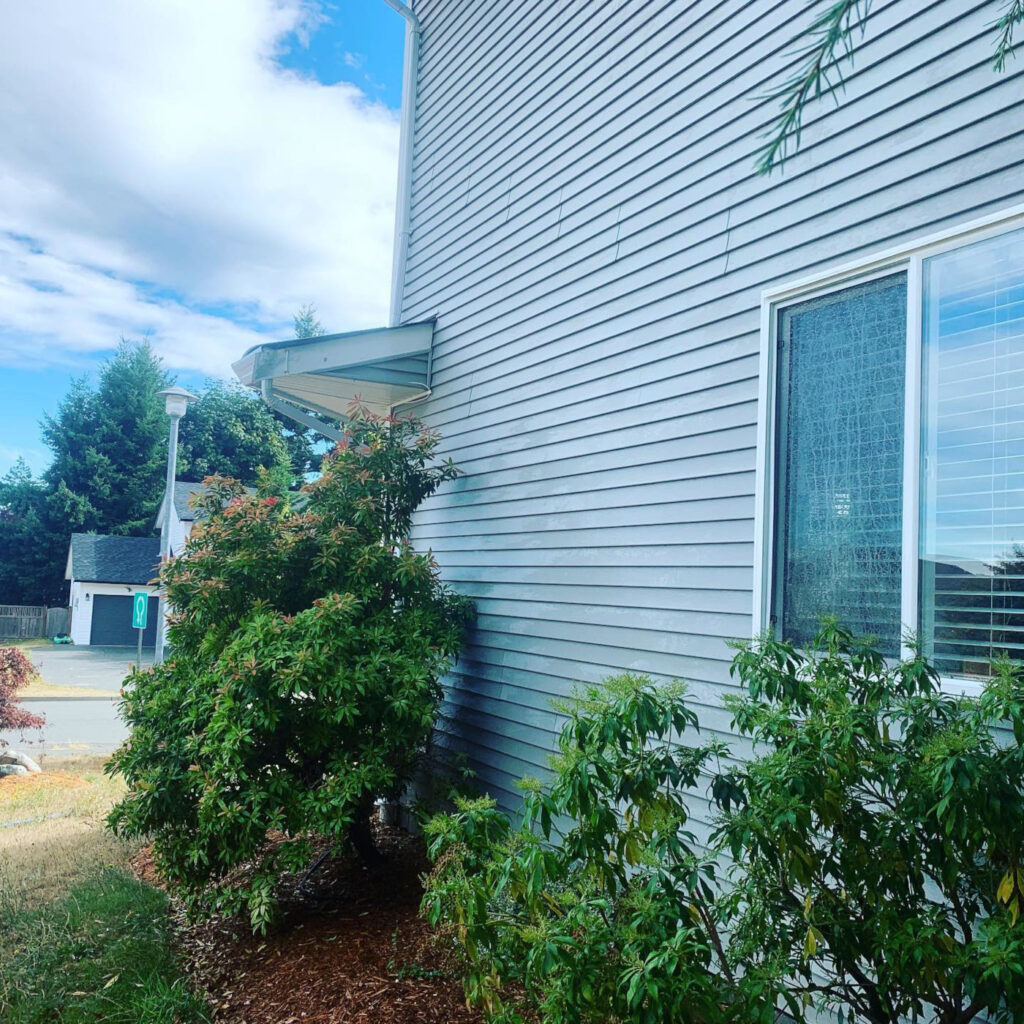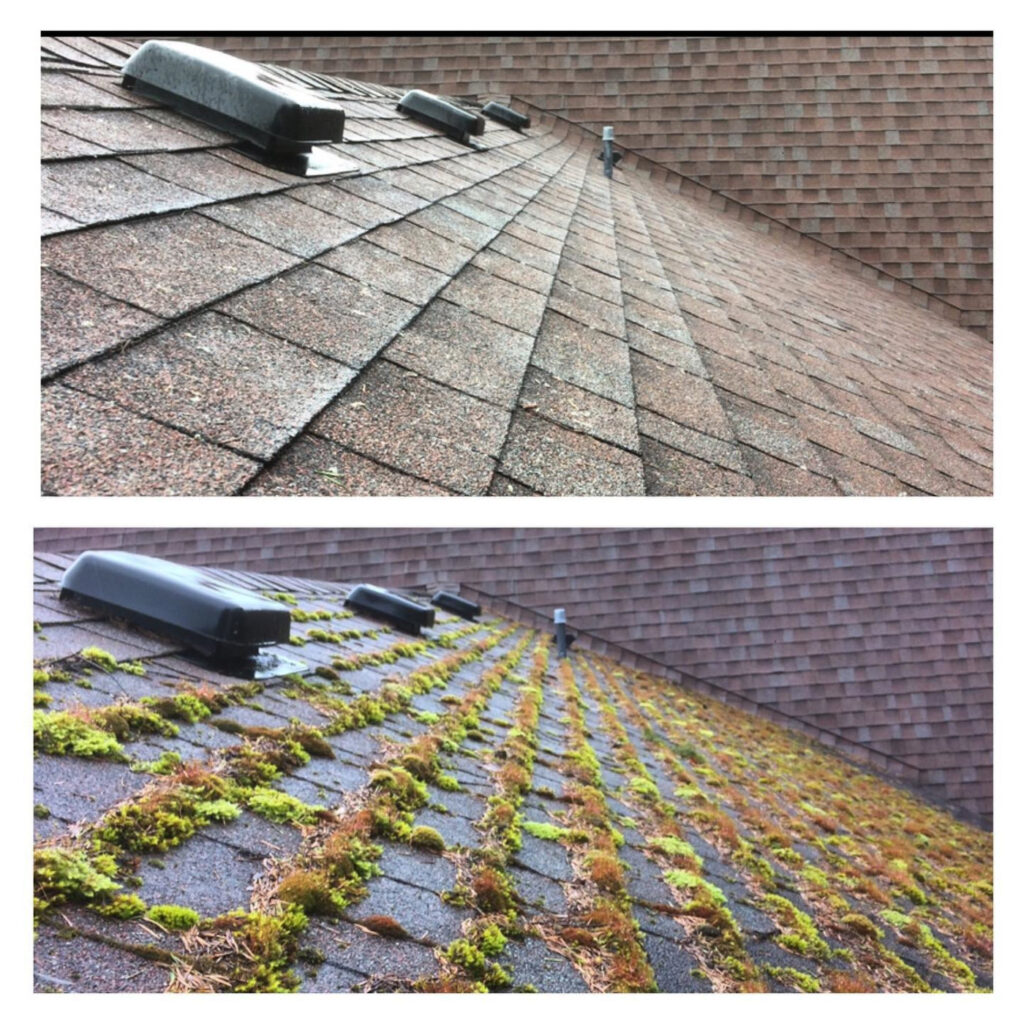 "Third year we have used Dylan for gutter cleaning and moss removal. Punctual, professional, efficient, and great prices!!! Thanks Dylan for the great work! Highly recommended"
"We have hired Dylan twice now to clean our roof, house, windows and gutters. He has done excellent work with good attention to details. He is very professional and personable. We recommend him highly."
"Dylan did a wonderful job cleaning the troughs on both my house and the cottage at the back. He is pleasant to work with and always puts in that little bit extra. Everything looks wonderful! I couldn't be more pleased."
Message Us
Get In touch below. Ask Any Question or Start a Free Quote
Mailing Address
2110B Lake Trail Rd.
Courtenay, BC
V9N 9C3