Services
The Comox Valley's window & exterior home cleaning experts.
What we do
Windows, Siding, Gutters and More!
Window Cleaning – Residential & Commercial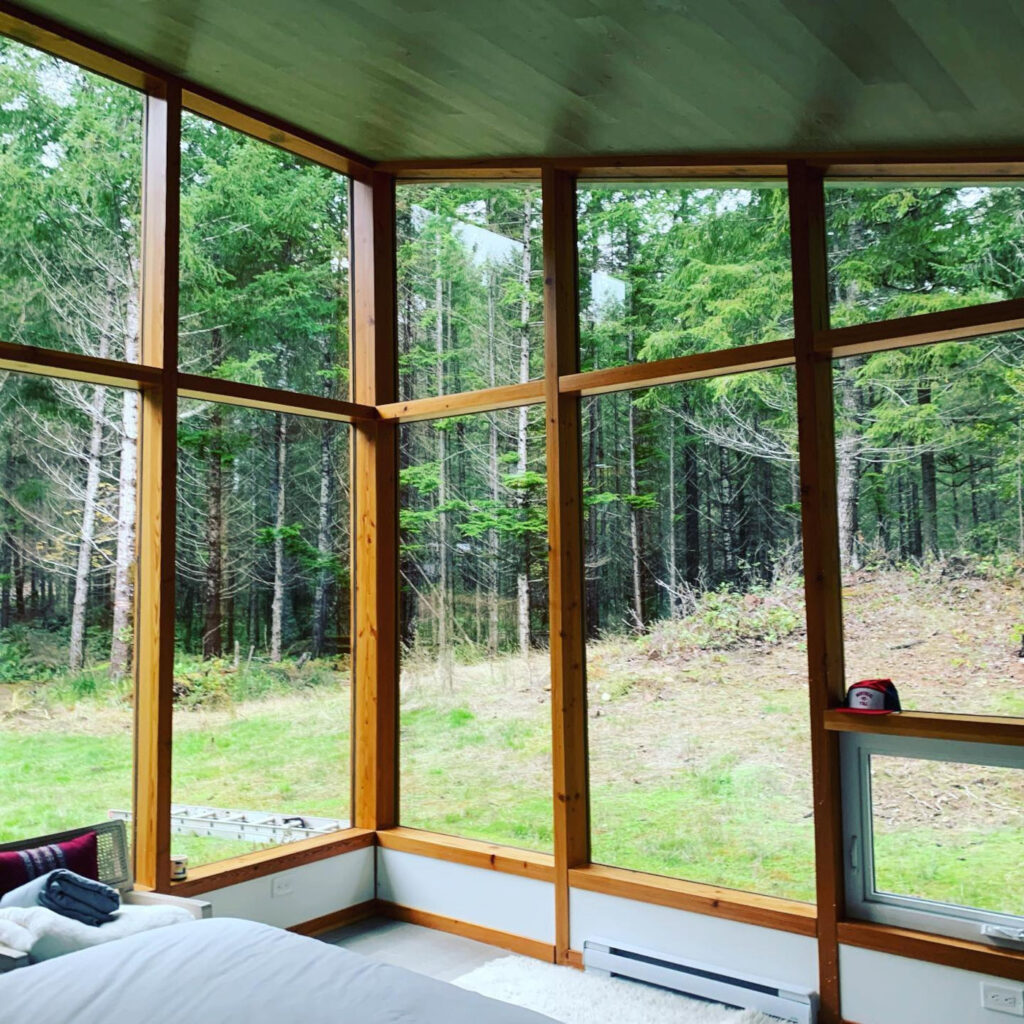 Windows can be costly – it pays to take proper care of them.
We specialize in all forms of residential & commercial window cleaning, both interior and exterior, and up to five stories. We offer two cleaning options: traditional soap, squeegee/scrubber cleaning and water-fed pole cleaning process. That method uses a lightweight carbon-fibre pole that reaches five stories and cleans with pure, filtered water. For more information on our processes, visit our FAQ page.
Window cleaning includes a complete clean of the glass including paint and hard debris removal where required and a quick wipe of the frames and/or sills. Interior window cleans include a screen clean. We also offer deep track and sill cleaning upon request. Deep track and sill cleaning includes pulling the window apart and treating it for mold.
Window cleaning minimum for residential homes is most often $157.50 including GST.
Improve your view and let in more light. Get in touch!
Gutter Cleaning – Roof Debris Removal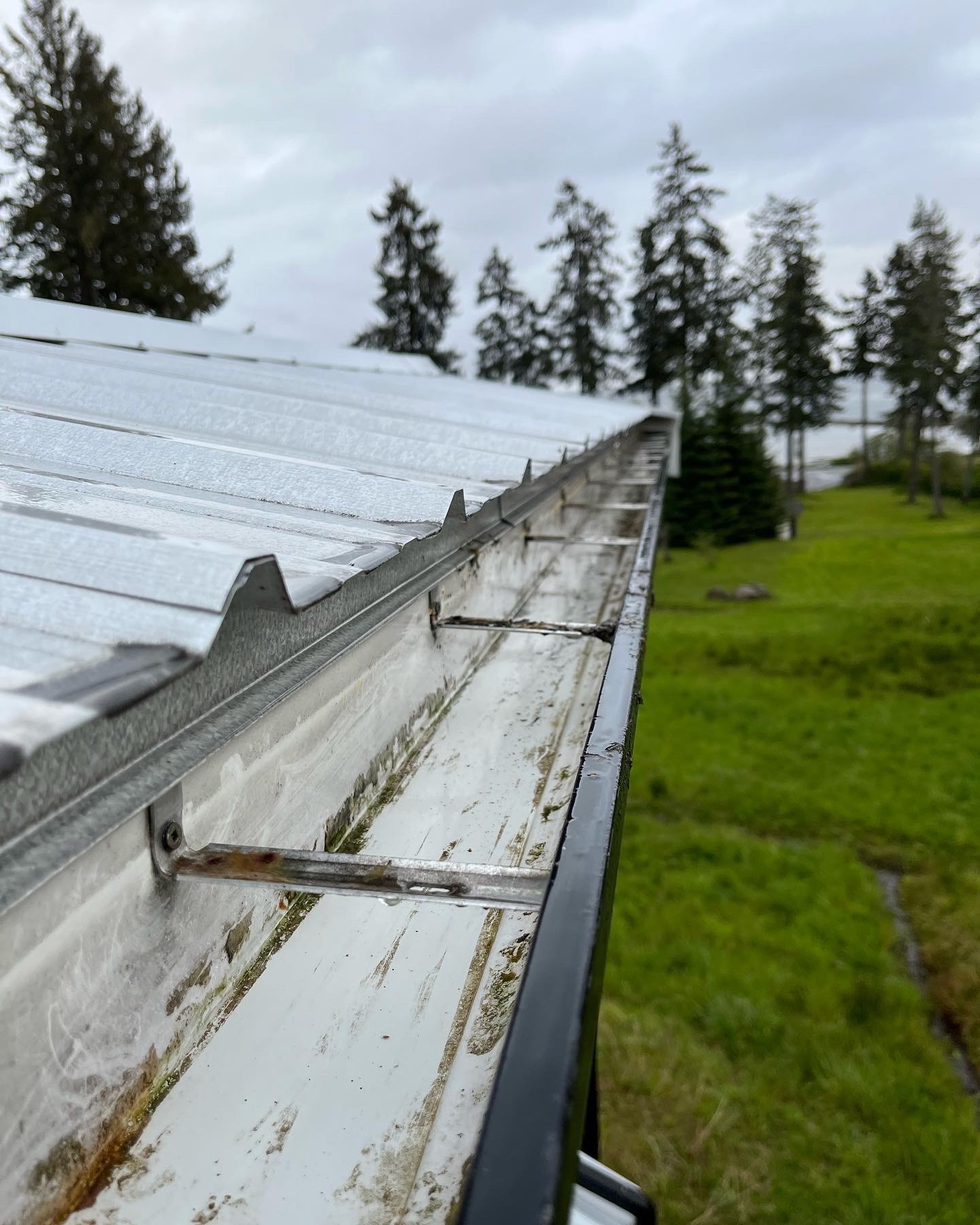 Protect your home from leaks and rot, extend the life of your gutters and save money in the long run with professional gutter cleaning.
Cleaning eavestroughs and clearing debris from roofs is an essential way to care for your home, especially on the wet West Coast. When leaves, fir needles, twigs and other waste accumulate to block rain and melting snow in your gutters, water can flow down the siding and into the foundation, leading to interior leaks, damage to your siding and exposure of the foundation. Compared to those problems, getting your gutters cleaned a couple times a year is cheap and painless.
Our cleaning process involves hand removal of debris from ladders, leaf blowing and/or rinsing with fresh water. It also includes removal of any roof debris and cleaning the exterior of the gutter (see below).
Gutter cleaning minimum for residential homes is most often $157.50 including GST
Call in the professionals and keep both feet firmly on the ground.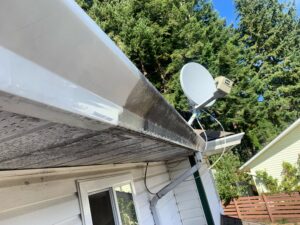 Exterior Home Cleaning – Siding, Deck, Soffit Washing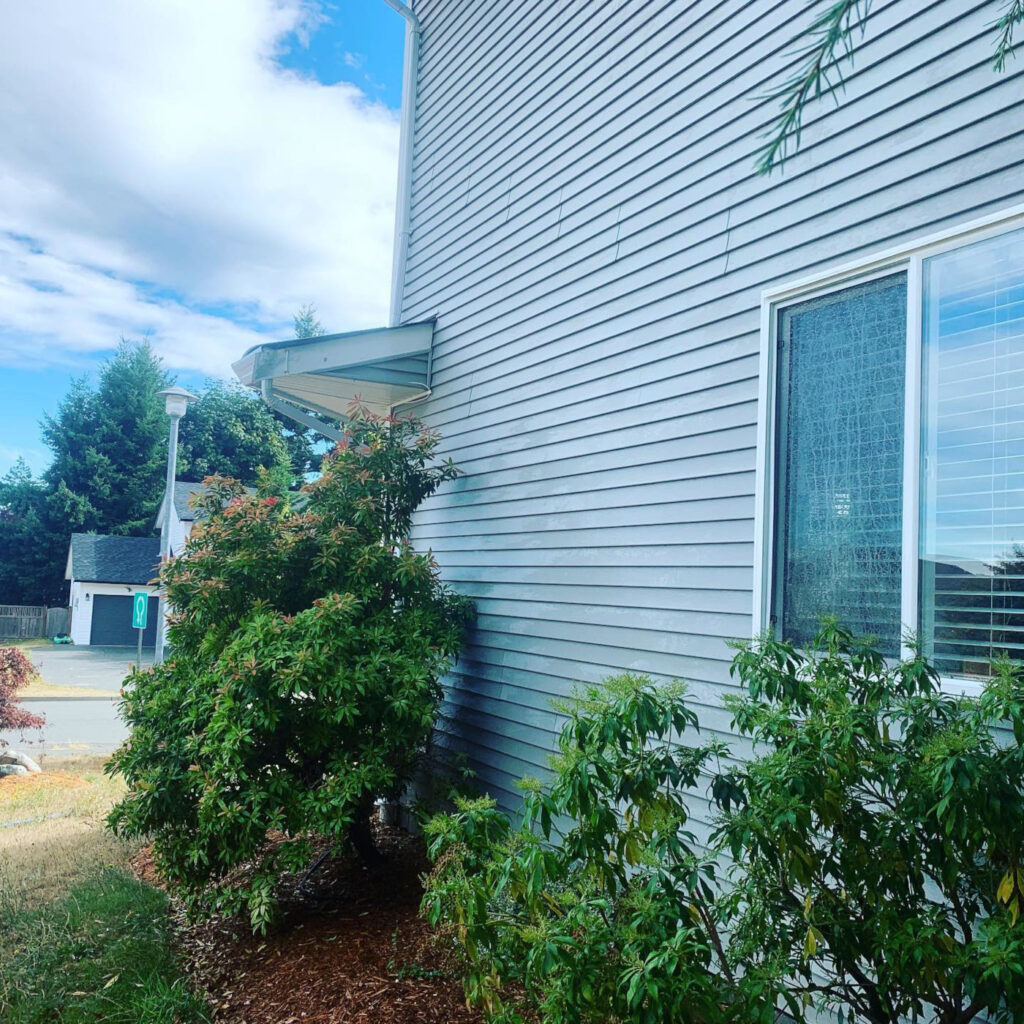 You're proud of your home, keep it looking fresh with a professional cleaning.
Your home will make the right impression with clean siding, soffit, decks, railings and more. Using soft-wash technology, our cleaning solutions protect finishes and take it easy on the environment. Rather than damaging surfaces or driving mold further into the envelope of your home, as occurs with power washing, our process preserves your home for the future.
Exterior siding house cleaning minimum for residential homes is most often $210 including GST.
Have questions about our methods? Check out our FAQ page.
Call us today and let's get started!
Cement Tile and Asphalt Roof Moss Removal and Treatment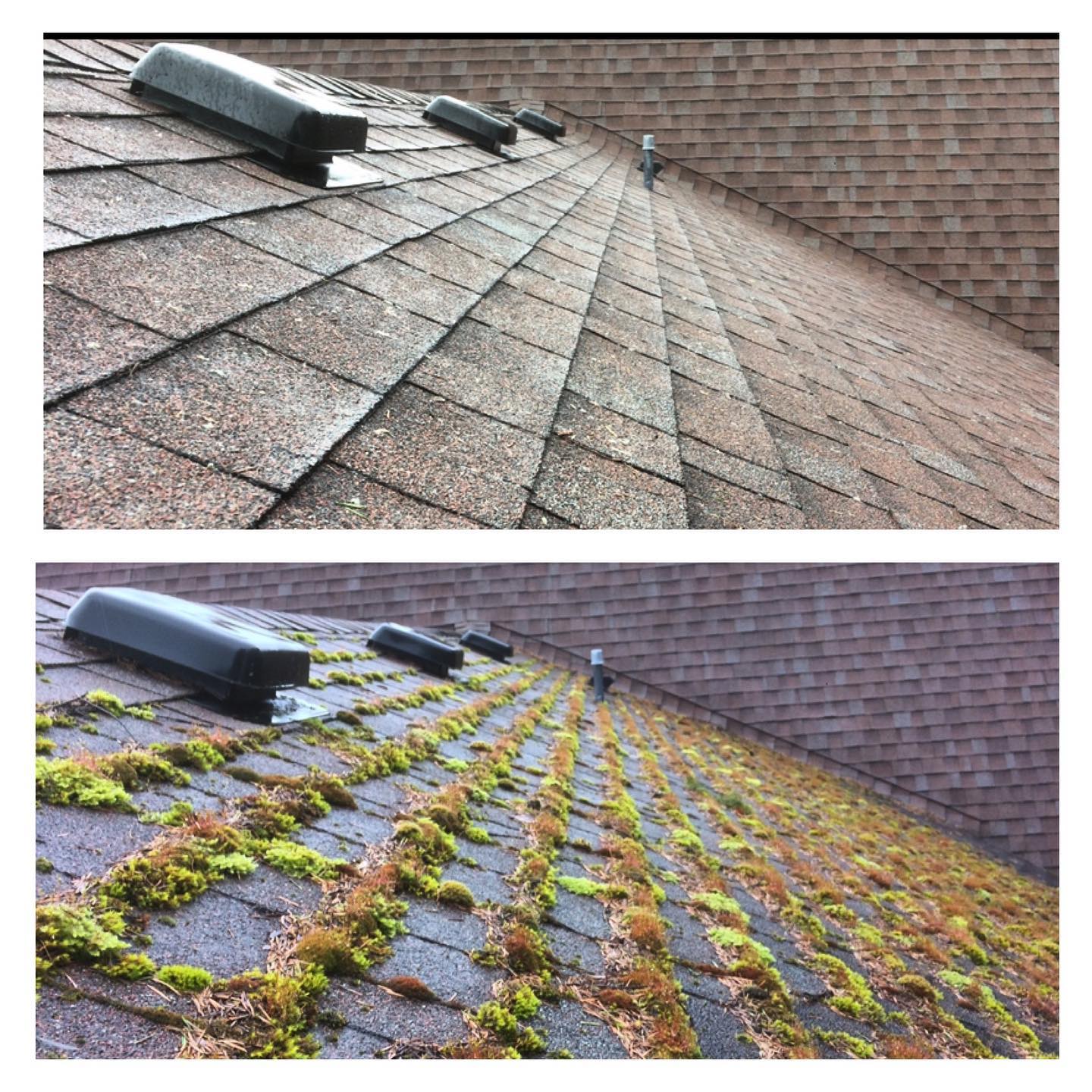 Moss can grow quickly here on the West Coast. It can be unsightly and more importantly will cause damage to ashphalt shingles, cause debris to build up on the roof and can prevent proper drainage.
We reccomend only a roof treatment to address moss issues on asphalt roofs. Physical moss removal using scrapers and brushes damages asphalt shingles.
If required, any moss larger than 3/4 of an inch will be knocked off lighly using our preferred tools, any remaining debris and lose moss will then be blown off the roof with a leafblower. The next step is the application of a treatment to kill all organic growth. Remaining moss will turn, grey/brown upon application of the treatment and will come down over the following months. The extent to which moss washes away with the elements will depend on factors such as roof slope, exposure to wind, trees around the home. Based on personal experience, the treated roof will look 60-70% better within 3 months. After 1 year the roof should look like new.
If you are selling your home or wish for the roof to look new we can remove the treated moss on the same day at additional cost by rinsing with a jet hose nozzle and regular water pressure. This may cause some additional wear and tear and decrease the life of the roof.
We are the Comox Valley's specialists in cement tile roof cleaning! It is a similar process and we can make a cement tile roof look new same day. 
Call us today and let's get started!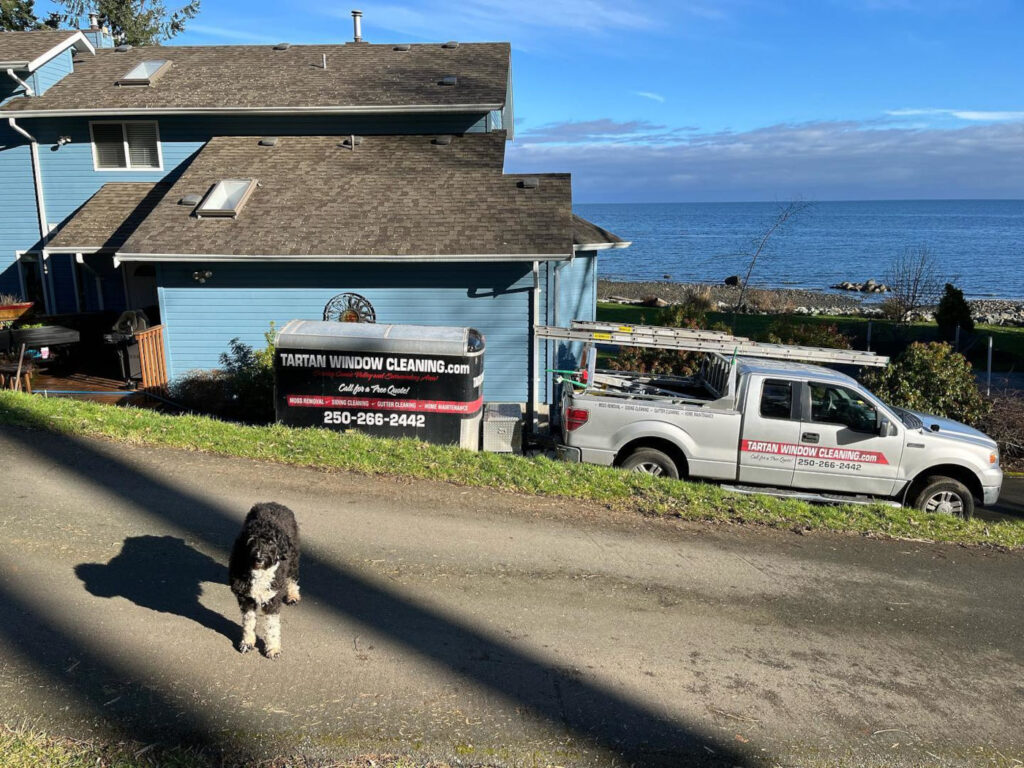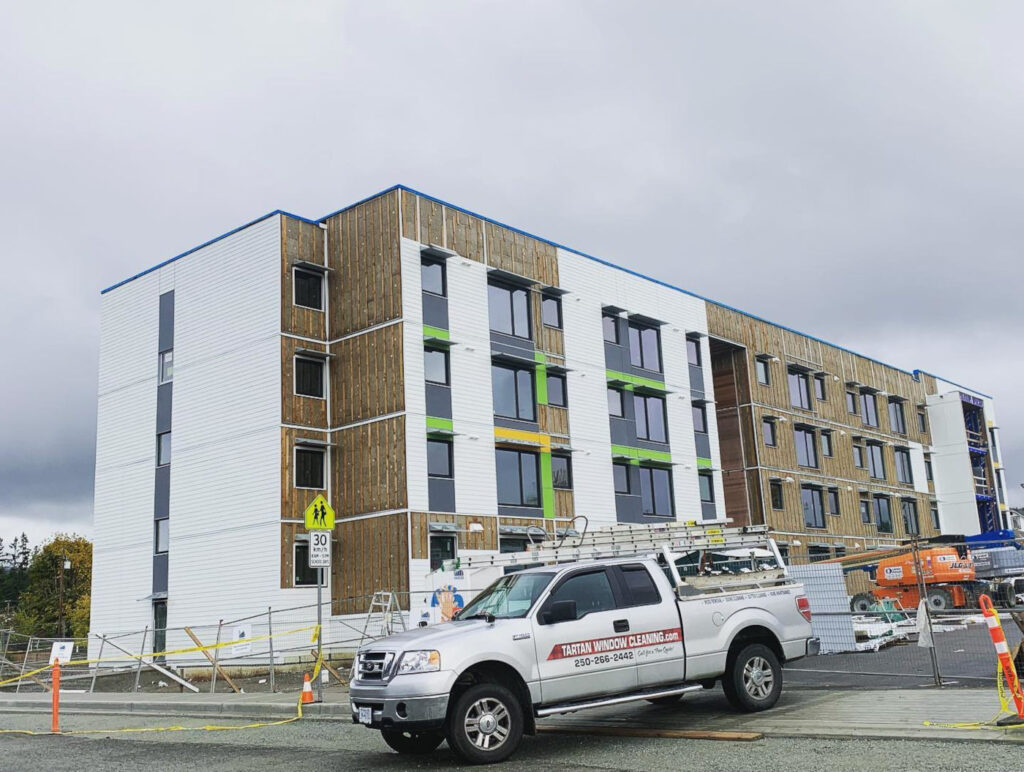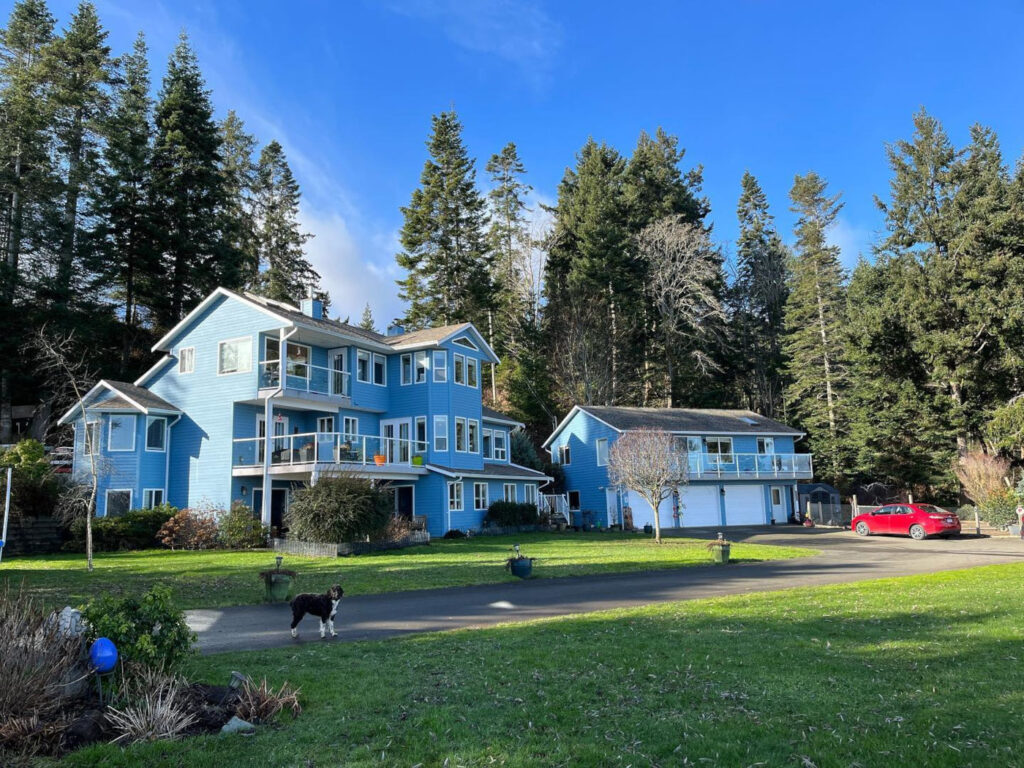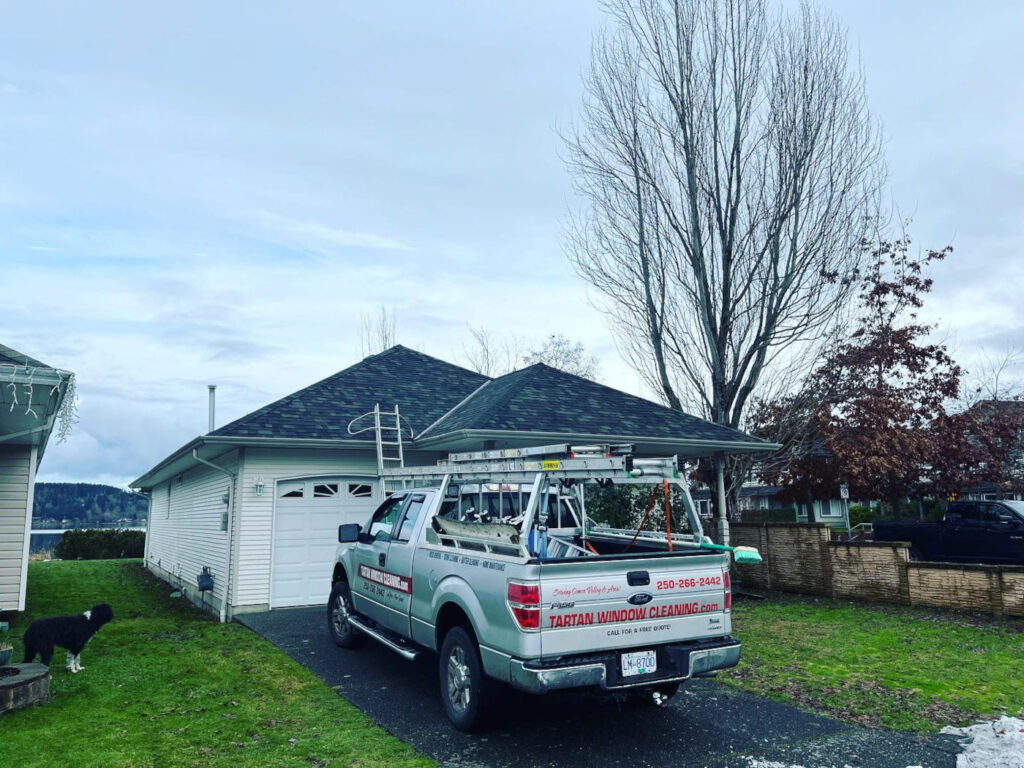 "Excellent service. Dylan went out of his way, has phenomenal attention to detail and is very respectful. I will definitely be calling Tartan Window Cleaning back again"
"Dylan is hardworking, professional, easy to talk to and was a real pleasure to work with. I think our roof de-mossing job took longer than he initially thought it would but he came back on a Saturday to complete it. The roof looks way better than it did, as do our gutters. We are so pleased and would definitely recommend him."
"Very professional, exceptional customer service. And, wait for it, AMAZING CLEAN windows, inside and out! Thank you Dylan!"
Message Us
Get In touch below. Ask Any Question or Start a Free Quote
Mailing Address
2110B Lake Trail Rd.
Courtenay, BC
V9N 9C3